Koso Hammel Dahl Equipment
KOSO HAMMEL DAHL products cover a broad range of applications with a variety of standard and optional features, such as flow characteristics, ease of maintenance and noise attenuation and cavitation abatement designs. Most bodies and/or trims are available in special alloys such as Monel®, Hastalloy® C and Alloy 20.
New Koso-Hammel Dahl Valves and Controls
Original Hammel Dahl Valves
Original Hammel Dahl Parts
Technical Support for Hammel Dahl Products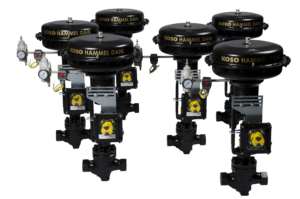 About WTM
WTM Valves & Services, A Division of Wright Technical Marketing, LLC supplies and supports valves, actuators, and related fluid handling products to the nuclear power generation industry. WTM Valves & Services has 35 years of  experience supporting the needs of the nuclear power industry. The WTM Valves & Services team knows the nuclear industry inside and out and has the technical experience necessary to deliver an excellent combination of high-performance products and first rate support.
In addition to the Hammel Dahl products offered to the industry, we provide services such as:
Replacement valves & actuators for obsolete equipment
Retrofit/improvement of existing equipment
Applications Consulting
Project procurement
Custom-engineered valves
Valve & Actuator Mods
Equivalency Evaluation
Parts for original Hammel Dahl Valves
Preparation of Technical Documents
Specification Review and Certification
WTM GP50 Series Positioners
WTM is pleased to announce our acquisition of the Conoflow® GP50 Series Pneumatic Positioner line (formerly the P50) from ITT Enidine .  The acquisition of the GP50 product line will provide a means of support to existing users of the GP50positioners across all industries, as well as representing an option for new customers seeking a rugged and time-proven, fully-mechanical pneumatic valve positioner. The GP50product line will be manufactured in-house at our Lewisburg, PA facility and be sold under the WTM brand. However, the positioners will retain the ITT Conoflow® design and model numbering system.  Contact us today for a quote, all models are available with short lead times.